Posted on 06/26/17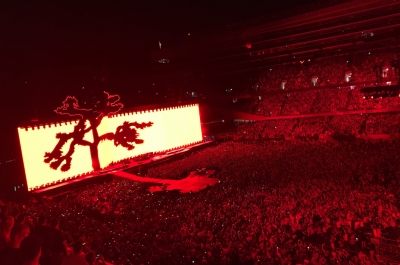 I was a 12-year-old kid desperately digging for meaning and purpose when I discovered U2's October album in 1982. I immediately picked up a copy of their debut, Boy, and shortly thereafter became completely enraptured with their third LP, War. U2 changed my understanding of how people of faith could interact with art. A few weeks ago—some 35 years later—I took my 12-year-old son Jesse to see U2 perform in my old home town of Chicago.
U2 is touring the world with a show that celebrates and meditates upon their massive, Grammy Award-winning, multi-platinum, 1987 LP The Joshua Tree. It's been three decades since that album altered the tone of mainstream rock music, profoundly shifted the way many Christian artists approached their work, and nearly crushed the band beneath its spiritual, creative, and cultural heft. As I watched Bono, Edge, Larry Mullen Jr., and Adam Clayton revisit and reinterpret the album, I realized through tears that many of its questions remain unanswered. It's seeking still hasn't completely found. Its confession has not yet been absolved. The ghosts that haunted us then haunt us still.
Stage designer Willie Williams, a longtime collaborator with the band, devised a massive, 45-by-250-foot video wall behind the musicians, which displayed an artful blend of original films by Anton Corbijn and highly stylized, live-action footage of the performance itself. A smaller secondary stage, cleverly designed as a shadow of the massive Joshua Tree edifice that rose above the screen, protruded deep into the audience. The entire thing was magnificent in its simplicity and awesome in its execution.
When I was 16, I missed the original Joshua Tree tour because I ended up having major surgery during the time U2 came to Chicago. That was heartbreaking, to say the least. My youth pastor had given me a cassette tape with The Joshua Tree on one side and Paul Simon's Graceland on the other. Those two albums rotated in my ears and rattled around in my heart nearly 24 hours a day for at least a week. I know every nuance of The Joshua Tree, from its worshipful heights to its tense and grinding darkness. It was about America. It was about me. It was about all of us. It set a creative and spiritual standard that I have been striving to reach ever since.
U2 has always been a band that wasn't afraid to tackle the biggest questions, be they geopolitical or hyper personal (as if there's a difference). They wore their hearts and their Christian faith on their sleeves, daring to push for meaning in the vapid 1980s. While the massive success of vacuous stadium bands like Bon Jovi, Def Leppard, and Guns N' Roses suggested that the world wasn't interested in soul searching anymore, U2 struck a chord by referencing the political perspective of the great protest rock of the 1960s, the yearning and hope of the best gospel music, the biographical leanings of Bob Dylan, and the oversized swagger of Bruce Springsteen. U2 zigged when the rest of the music world was zagging. Today The Joshua Tree is recognized as one of the most important albums in the annals of rock.
This was also the time of the culture wars, when many Christians retreated into their own enclaves, preaching to themselves and offering "safe alternatives" to the popular culture to their kids. The sacred/secular illusion was becoming tragically real, unless you paid close attention to U2. For those who caught the gospel slant to the album, The Joshua Tree was a distinctly Christian yet wildly mainstream consideration of fear, redemption, addiction, justice, pleasure, bondage, violence, and faith. The image of a scraggly and defiant desert tree hung over the music like a twisted crucifix.
The rhythms on The Joshua Tree pound out a running pace while the guitars evoke a feeling of transcendence. Throughout the album, both lyrically and musically, the band meditates on thirst. They seek the water of life in a world that often seems barren. Like that ancient tree, they survive in a desert on the tiniest sip of moisture. A Joshua Tree might be seen as a harbinger of struggle and death, yet it is also a survivor that offers a certain amount of shade. We too survive. We know and believe important things about that water, and the tree. We have faith, but for now we are all still in the desert. We still seek.
On a cool Chicago evening, with my son by my side, I heard U2 reprise their prayers and I sang along with all my might. The service started with a four-song call to worship on the smaller stage. "Sunday Bloody Sunday," with its militaristic snare drum intro, served as a powerful opening. Most in attendance were just learning of that day's terrorist attack on a bridge in London, so a song originally inspired by the political and religious rancor of Ireland's "troubles" suddenly gained new relevance. The same was true with each of the songs to follow. "New Year's Day," from its familiar bass line to Bono's plaintive opening howl, rang out as a supplication. ("Though torn in two / We can be one.") "Bad" inverted the melodic promise of "New Year's Day" into a minor-key prayer of lament. ("This desperation, dislocation Separation, condemnation Revelation, in temptation Isolation, desolation Let it go.") "Pride (In The Name Of Love)" saw hands raised throughout the stadium as fans exulted in the magical juxtaposition of an ascendant, rapturous melody backing up lyrics reflecting on the sacrifice love demands. "What more in the name of love," we all sang. Every U2 show is constructed as a sort of liturgy, but the sanctity of this set was palpable.
The band then moved to the main stage to perform The Joshua Tree in its entirety. The combination of the flawless musical execution with the captivating visuals was stunning. Though each song built effectively on the one before, the centerpiece musically, visually, and spiritually was definitely the epic protest rocker "Bullet The Blue Sky." The massive screen sparked and bled with a mind-bending, psychedelic visual pastiche of live performance footage and disturbing, pre-recorded imagery. It was both inspiring and infuriating to recognize the song's continued relevance. We are still dealing with the "dogs of war," be they in ancient Rome, in Washington, or in our own hearts.
Without sacrificing the band's notorious political bite, Bono played the part of the good rector and offered gestures of inclusion to all in attendance. "Tonight we are going to find common ground by reaching for higher ground," he said. Toward the end of the set, my son screamed out, "Dad! This is like midnight church!" He was right. After completing The Joshua Tree, the band came out for a long encore of inspirational songs from the last couple of decades. They then ended with a rousing version of the first cut and first single from their first album. "I Will Follow" was the perfect recessional hymn, the testimony of a man answering the call placed on his life and committing to follow wherever that call takes him.
As we left the stadium, ears ringing and hearts swelling, my son and I talked about what it might mean to live in the shadow of a tree. Then he fell asleep in the passenger seat and I drove us home.
Date: June 26, 2017 at 07:58AM
From: "Think Christian Articles"
via original RSS feed: http://ift.tt/2tdsbT8
Reposted by: To Live Like Jesus Clothing Company
Category: Think Christian
Comments/Suggestions
If you would like to share your thoughts and/or comments… please leave your feedback below. All comments and suggestions are not of our own, but that of our readers and customers. These comments may not reflect our (TLLJCC) views, but are meant for discussion purposes to talk about a variety of Christian subjects.
Giving Back
To Live Like Jesus Clothing Company, works with Feeding America (feedingamerica.org). For every dollar donated, the Feed America network of food banks secures and distributes 11 meals to people facing hunger.
The post Living in the Shadow of U2's Joshua Tree appeared first on To Live Like Jesus Clothing Company.