Posted on 06/27/17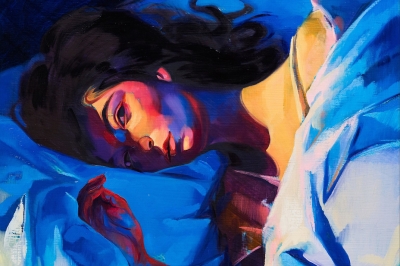 No longer the outsider peering down on the glitz and glamor of pop music—as she was on her hit single "Royals"—Lorde now critiques from the inside with her latest, Melodrama. The music itself reflects this change. Gone are the days of her raw, hip hop-inspired beats and simple melodies. She's now finely tuned and produced, while her lyrics have taken on typical pop-music themes of love lost and partying. Overall the album feels complex, robust, and eclectic.
Though she's converted to a stronger pop vibe, Lorde has retained some of her edge. "Hard Feelings/Loveless" opens with her soft, throaty voice leading to harder electronic screeches. Then there is an almost silent interlude before the song breaks down into a dance beat, as her voice turns brighter and lighter. The new album features people looking for lasting pleasure or happiness in romantic love, one-night stands, partying, and substance abuse. The transitory nature of life is referenced in certain phrases: "summer afternoon," "overnight rush," and "the games of the weekend." Melodrama shows us we tend to look for lasting things in transitory moments. On "Sober," Lorde tries to see this pop world for what it really is: "It's time we danced with the truth … we're sleeping through all the days … I know you're feeling it too, can we keep up with the ruse? … What will we do when we're sober?"
King Solomon, the likely author of Ecclesiastes, would have appreciated the restlessness of Melodrama. Like Lorde, he was on the inside of a luxurious life that offered much pleasure, yet he found it "meaningless." Or, to borrow Lorde's term, "melodrama." She echoes these concerns with "Sober II (Melodrama)":
And the terror and the horror

Gotta wonder why we bother

All the glamour and the trauma

And the f***ing melodrama

All the gunfights and the limelights

And the holy sick divine nights

They'll talk about us, all the lovers

How we kissed and killed each other…

You wanted something that we offered

We told you this was melodrama.
On Melodrama, Lorde seeks something more. This is the subject of the last song on the album, "Perfect Places":
Now I can't stand to be alone

Let's go to perfect places

All the nights spent off our faces

Trying to find these perfect places.
It would be easy to say that God offers just this "perfect place." After all, even Solomon concludes that one should "fear God and keep his commandments." But the truth is even those of us who rest in God find it difficult to live the perfect life God requires of us. Our melodrama continues. That's where the good news comes in. Jesus came to earth as a perfect man, to die a perfect death, and to rise again so that we can be declared perfect in him. Trusting in this truth, we can find solace as children of God, saved by grace. Pursuing melodrama instead, we're reduced to what Lorde describes as "just a supercut of us."
Date: June 27, 2017 at 11:57AM
From: "Think Christian Articles"
via original RSS feed: http://ift.tt/2sfcIlD
Reposted by: To Live Like Jesus Clothing Company
Category: Think Christian
Comments/Suggestions
If you would like to share your thoughts and/or comments… please leave your feedback below. All comments and suggestions are not of our own, but that of our readers and customers. These comments may not reflect our (TLLJCC) views, but are meant for discussion purposes to talk about a variety of Christian subjects.
Giving Back
To Live Like Jesus Clothing Company, works with Feeding America (feedingamerica.org). For every dollar donated, the Feed America network of food banks secures and distributes 11 meals to people facing hunger.
The post Lorde's Melodrama and Living Life as a Supercut appeared first on To Live Like Jesus Clothing Company.