Posted on 07/05/17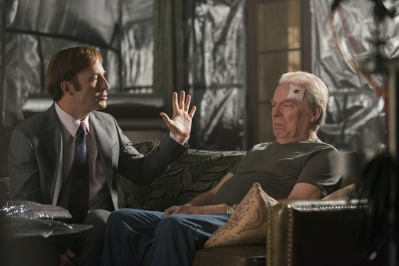 Season three of Better Call Saul, AMC's prequel to Breaking Bad, rewarded us with complex characters and story arcs that felt straight out of the book of Genesis. Prequels aren't supposed to work (just ask George Lucas), but this one does, magnificently, as it focuses on the twisted and twisting relationship of brothers Jimmy (Bob Odenkirk) and Chuck (Michael McKean) McGill.
The problem with prequels is we know ahead of time how the story will end. We know Jimmy will somehow morph into Breaking Bad's sleazeball lawyer, Saul Goodman. Indeed, we've been waiting for three seasons for the transformation to happen. Perhaps the events in this year's final episode will cause a Michael Corleone-esque spiral into darkness. Up until now, however, Jimmy has been morally flexible but ultimately takes the high road, repeatedly sacrificing personal interest for the sake of others. In this year's finale, he turns his back on over a million dollars in order to reconcile the relationships between a group of elderly women; chooses his girlfriend Kim (Rhea Seehorn) over career, office, and status; and, most compellingly, tries to put things back together with his older brother Chuck.
Chuck's response? "I don't want to hurt your feelings, but the truth is you never mattered that much to me." This is a lie, as we've seen how he has been obsessed with Jimmy. We've also heard something like this before, as there are echos of Esau essentially asking, "What's all the fuss about?" when Jacob attempted to reconcile with him.
Jacob and Esau's story is inexhaustible in its complexity. What is it about? Sibling rivalry? Stealing a blessing? Scamming? Living in a brother's shadow? The search for meaning, purpose, happiness, and fulfillment? The complexities of election and grace? Overcompensating for insecurity? The challenges of a dysfunctional family? All of that and more.
Jimmy and Chuck mirror Jacob and Esau. Older brother Chuck is an incredibly successful, highly competent lawyer. Jimmy has worked in the mail room of Chuck's firm, and is trying to succeed as a lawyer, trying to reach the sort of career Chuck has. But Jimmy, like Jacob, is a hustler. He can't help himself. He cuts corners, looks the other way, and does bad things for good reasons. Jimmy drives Chuck crazy. Literally.
Part of the genius of Better Call Saul is that none of the characters turns out to be who you thought they were. Chuck's partner Howard (Patrick Fabian), the prim and ice-cold pretty boy, sacrifices his personal fortune for the good of his law firm and its employees. Nacho (Michael Mando), the drug-dealing thug, risks his life because of his love for his straight-arrow father. Jimmy, the hustler, isn't evil; he's just a guy trying to make life work. And Chuck, the brilliant lawyer, turns out to be mentally ill. One of the revelations this season is that Chuck's "thorn in the flesh" allergy to electromagnetic impulses isn't an allergy after all. The man is sick. Even though, because it's a prequel, Jimmy has to descend into darkness, it is Chuck who goes there first, tearing his house apart in a memorable scene that is a nod to the paranoid thriller The Conversation. Finally, in a fit of madness, Chuck kicks over a lantern and engulfs his house and himself in hellish flames. Jimmy had said, "I'm not good at building s—, I'm good at tearing it down," but it is Chuck who destroys everything.
How will it end? In a sense we already know, because Jimmy has to become Saul. Maybe Chuck's demise will send him there. But there's still his girlfriend Kim, tying him to decency. There's more tragedy coming, and somehow Jimmy will follow his older brother's descent into hell. One wonders if there will be some sort of blessing waiting for him on the other side.
Date: July 05, 2017 at 01:20PM
From: "Think Christian Articles"
via original RSS feed: http://ift.tt/2urdqcR
Reposted by: To Live Like Jesus Clothing Company
Category: Think Christian
Comments/Suggestions
If you would like to share your thoughts and/or comments… please leave your feedback below. All comments and suggestions are not of our own, but that of our readers and customers. These comments may not reflect our (TLLJCC) views, but are meant for discussion purposes to talk about a variety of Christian subjects.
Giving Back
To Live Like Jesus Clothing Company, works with Feeding America (feedingamerica.org). For every dollar donated, the Feed America network of food banks secures and distributes 11 meals to people facing hunger.
The post Jacob, Esau, and Better Call Saul appeared first on To Live Like Jesus Clothing Company.